Monkey Kingdom's first ever virtual dating event
Those who had only either a single Gen 1 or Gen 2 may have felt disadvantaged by the breeding mechanic and we wanted to give them a fair and equal chance in participating. This was the fundamental premise behind organising the

Too Hot to Handle

event. - awkwardalz
Too Hot to Handle
was our first ever virtual dating event held on our Discord in February 2022. This community event helped our holders with only a single Gen 1 or 2 find a partner for breeding. Two holders that mutually matched with one another will have had both their Gen 1 & 2 breeding quota used. In return, they both received a
Gen 3
each for their participation.
On the shores of paradise in the Kingdom, gorgeous singles meet and mingle. Single Wukongs and Diamond Baepes who have found their partners during the 4-week event will get to breed the next generation of Wukongs. The first ever virtual dating show in the NFT space, brought to you by Monkey Kingdom!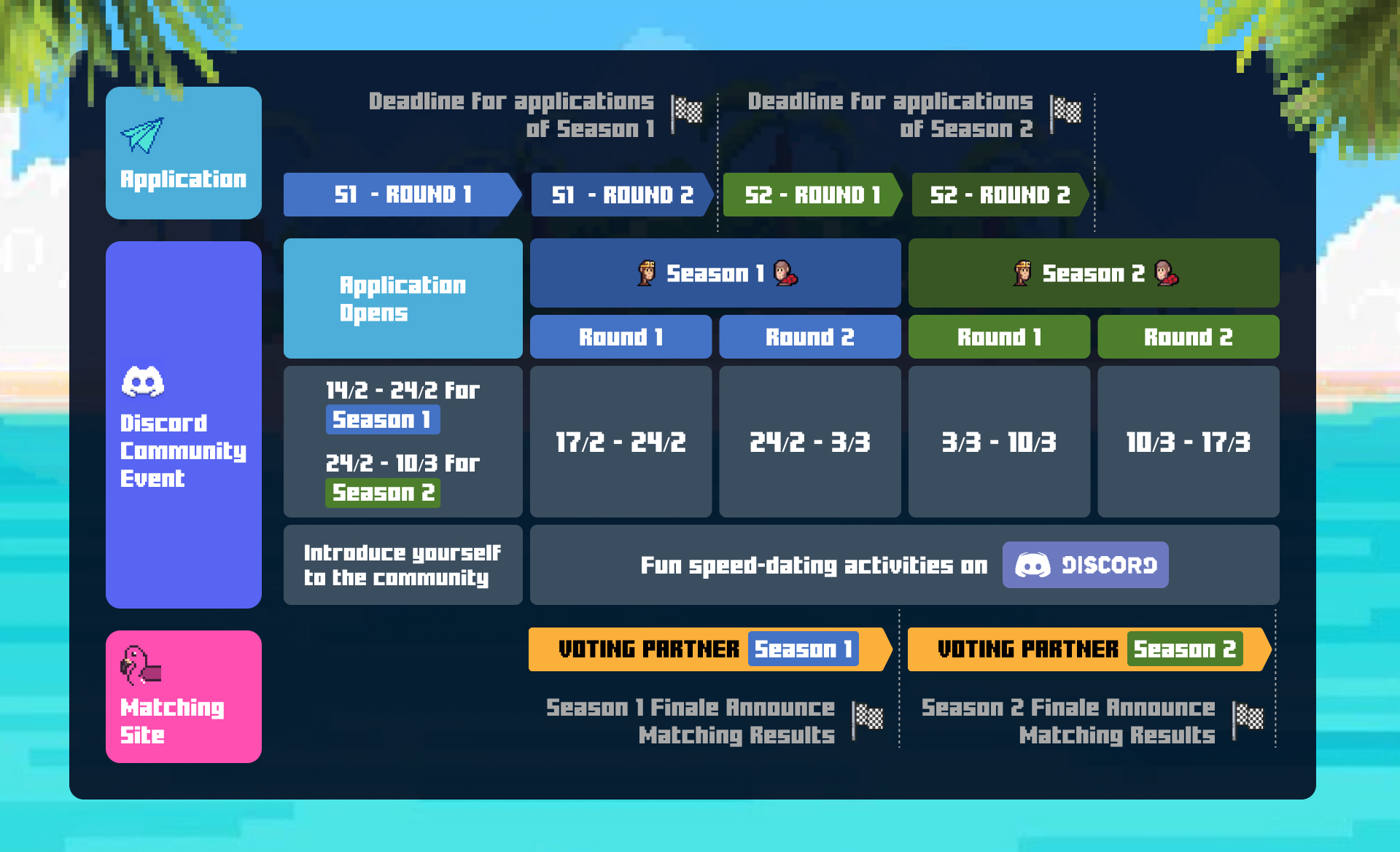 Too Hot to Handle Event Schedule
There were a total of two

Seasons

, and within each

Season

there were two

Rounds

that lasted for a week each.

Participants that entered their single Wukong or Diamond Baepe into the event were given special roles on Discord. This allowed them to participate in social activities and fun speed-dating games!

At any point of time during a

Season

, participants had the choice of entering the NFT ID of their crush on the

Too Hot to Handle

site.

At the end of each

Round

, any mutual matches between a Wukong and Diamond Baepe were recorded and announced on our Discord.

Participants were allowed to change their mind and select a different partner at any time before a

Season

ends (each Season consisted of two

Rounds

). However, the matching results at the end of a Season were final.

At the end of each

Season

, Wukongs and Diamond Baepes who have matched with one another were allowed to breed, and they each received one

Gen 3

.
A monkey that has previously been matched in our Too Hot to Handle event